Syria's government has awarded potentially lucrative oil sector contracts to a mysterious Lebanese shipping outfit and a politically-connected Syrian firm, both linked to the far-flung web of companies helping Iran move oil.

It is the latest example of little-known Lebanese firms engaging in oil deals in neighboring Syria. A number of front companies from the Mediterranean country have been buying oil tankers shipping oil to Syria, while others have helped broker petroleum shipments for Damascus.

The US has ramped up its sanctions against Iran's oil exports, claiming in September that the IRGC-QF was overseeing the complex web of front companies that has "moved oil worth hundreds of millions of dollars or more" for the benefit of the Syrian government.

Amid this increasing pressure, Syria's parliament on December 9 ratified draft laws for building and operating two new petroleum refineries as well a contract for expanding the petroleum terminal in Tartous.

Al-Watan newspaper, which is supportive of the Syrian government, reported that Syrian firm Arfada Petroleum and Sallizar Shipping of Lebanon were signatories to these contracts along with Syria's Oil Ministry and two other state-run organizations.

When asked about the refinery deals, a representative of Sallizar Shipping told Levant Networks that the news report was incorrect, and possibly a "misspelling." He insisted that Sallizar Shipping was not involved in Syria's petroleum sector and was instead engaged in cargo shipping in Ukraine and other European markets.

No other firm named Sallizar Shipping, or a similar name, is registered in Lebanon. Corporate documents reviewed by Levant Networks reveal a link between Sallizar Shipping, which was established in December 2018, and another Lebanese firm that recently acquired an Iranian-flagged crude oil tanker.

Mohammed al Madani, one of Sallizar Shipping's owners, became the chairman and part-owner of Meamed International SAL Offshore in March 2019, according to corporate documents obtained by Levant Networks. Six-months after coming under new ownership, the company acquired the Romina crude oil tanker, shortly after the vessel was renamed and reflagged under Iran.

The US government has issued an alert that included the Romina for its alleged illicit activities, including engaging in ship-to-ship transfers of Iranian petroleum headed to Syria.
While the UN's International Maritime Organization provides the vessel's new name and flag in its database, the Romina continues to squawk a Maritime Mobile Service Identity number that labels the vessel under its old name, Marshal Z.
One of Madani's partners in the firm, Rabih Alam, serves a further nexus to the web of intermediaries facilitating Iran's oil shipments to Syria.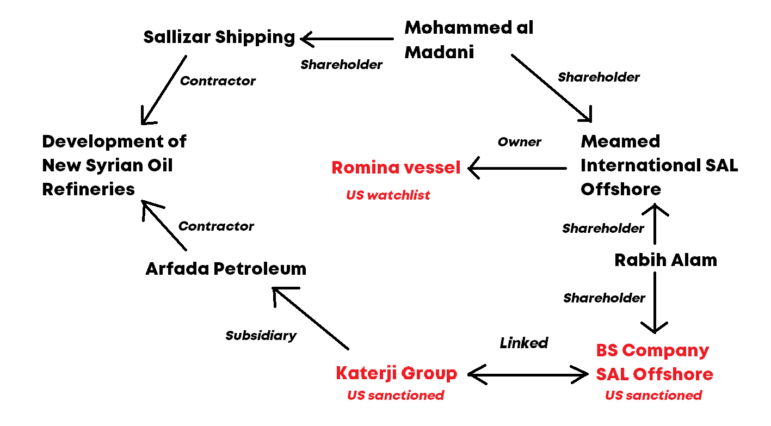 Lebanon's online corporate register lists Alam as a board member and part-owner of BS Company SAL Offshore, a firm sanctioned by the US as "one of the largest importers of crude oil into Syria."

In a June 2019 press release, the US accused BS Company SAL Offshore of importing "hundreds of thousands of metric tons of Iranian light crude oil in the past year using a variety of oil tanker vessels and tanker trucks."

When asked about the deal for new refineries in Syria, BS Company SAL Offshore told Levant Networks that it was a national company that builds Syria and aims to meet the needs of the Syrian people for oil derivatives.

BS Company SAL Offshore did not respond for comment on whether it maintained business ties with Sallizar Shipping or Arfada Petroleum, the contractors for developing the two new refineries.

However, the US has accused BS Company SAL Offshore of being "affiliated" with the Katerji Group conglomerate that includes Arfada Petroleum. The Katerji Group is controlled by rising business kingpin Mohammad Katerji and his brother, Hossam, a member of Syria's parliament.

Mohammad Katerji "has a strong working relationship with multiple officials within the Government of Syria, to include several contracts with the Syrian Ministry of Oil and Syrian Ministry of Trade," according to the US.

Syria currently relies on its refineries in the coastal town of Baniyas and Homs to process petroleum — much of it imported from Iran since the government lost control of fields in eastern Syria — and provide gasoline, diesel and other needed products.